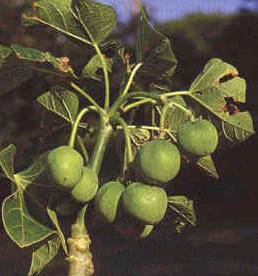 Oleh / By:  Noraida
---
| | |
| --- | --- |
| Nama Tempatan: | Jarak Pagar |
| Nama Saintifik: | Jatropha curcas |
| Nama Lain: | Jarak Cina |
| Famili: | |
| Lokasi Dijumpai: | |
| Asal:: | |
KETERANGAN:
Pokok jarak ni ada dua jenis, jarak minyak (Ricinus communis L) dan jarak pagar (Jatropha curcas) . Getah yang terdapat pada batang dan buah (esp buahnya) boleh menyebabkan keradangan kulit disebabkan oleh bahan aktif (sejenis toxalbumin) yang terdapat pada tumbuhan ini. Macam kalau kita kena getah bacang tuh le lebih kurang.
KEGUNAAN:
Jarak pagar atau jarak Cina (Jatropha curcas) selalu digunakan untuk rawatan rambut gugur dengan cara menyapu minyak yang dihasilkan oleh buahnya yang telah matang pada rambut. Selain itu ia juga berkesan sebagai penawar penyakit rhuematism. Cara rawatannya dengan menumbuk daunnya hingga halus dan dan dicampurkan dengan air panas, letakkan pada bahagian yang sakit dan balut. Perubatan moden juga ada menggunakan ekstrak dari biji jarak ini untuk mengubat penyakit seperti hernia, kanser, gonorrhea, lumpuh, siplis dan tetanus (kancing gigi) . Tapi kat Malaysia ni tak de lagi. Di cameron tumbuhan ini digunakan untuk mengubat artritis dengan cara meminum air rebusan daun ni. Di columbia pula tanaman ini digunakan untuk mengubat penyakit kelamin. Getah pokok jarak ini boleh digunakan untuk mengubat sakit gigi dengan cara menampal pada bahagian gigi yg sakit.
---
| | |
| --- | --- |
| Common Name: | Jarak Pagar |
| Scientific Name: | Jatropha curcas |
| Other Name: | Jarak Cina |
| Family: | |
| Location: | |
| Origin: | |

DESCRIPTION:
Two known species Ricinus communis L and Jatropha curcas. The sap that can be found on the stem and fruit can cause skin irritation. This is caused by toxalbumin found on the plant.
USAGE:
Jatropha curcas commonly used to treat hair loss by applying the oil produced from the fruit to the hair. It is also used for treating rhuematism. It is done by mixing the oil into hot water and rubbing the solution onto the area where the sickness occured. Modern medication also known to use extract from the seeds to treat hernia, canser, gonorrhea, paralyse, syhplis and tetanus. Some country like in Cameron, the plant is used to treat artritis by drinking he water that boiled with the plant leaves. In Columbia the plant is used to treat STD. The sap can also being used to reduce inflamation and pain for tooth pain.
---
RUJUKAN / REFERENCES: